ART COMPETITION & EXPOSITION
Engaging Young Men and Adolescents to End HIV/AIDS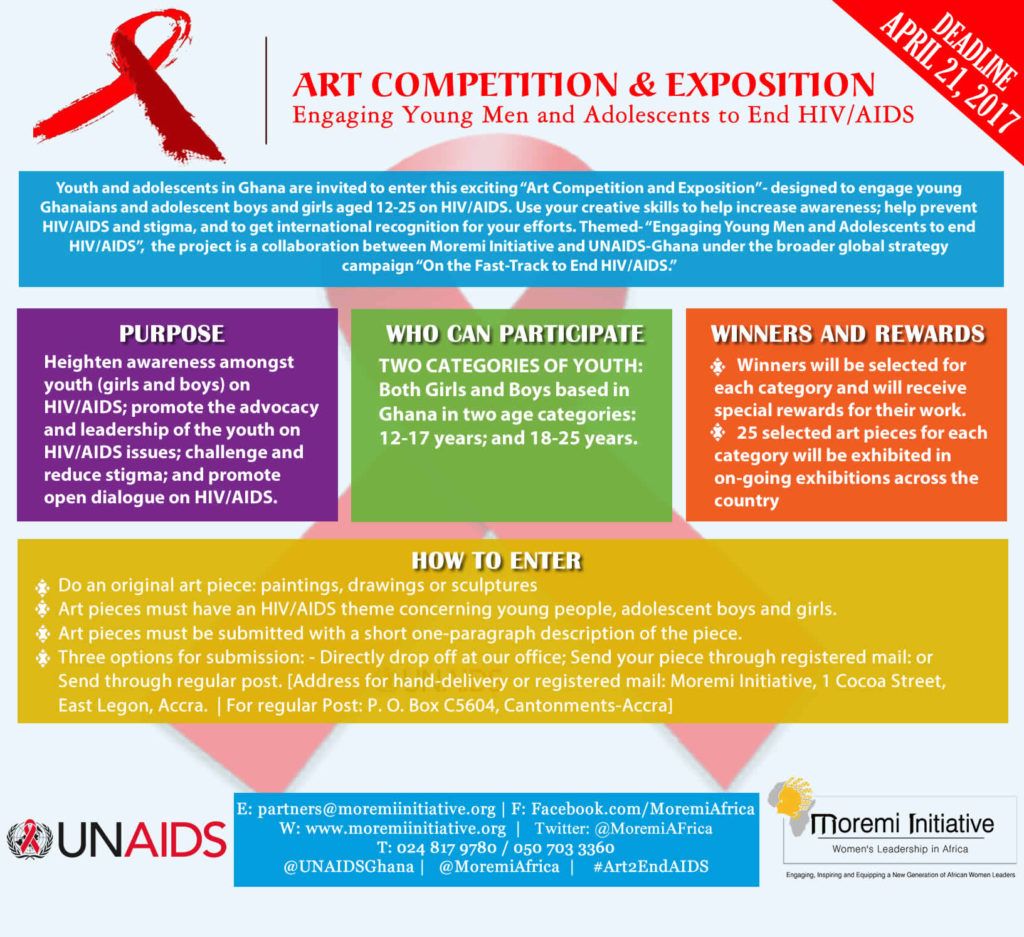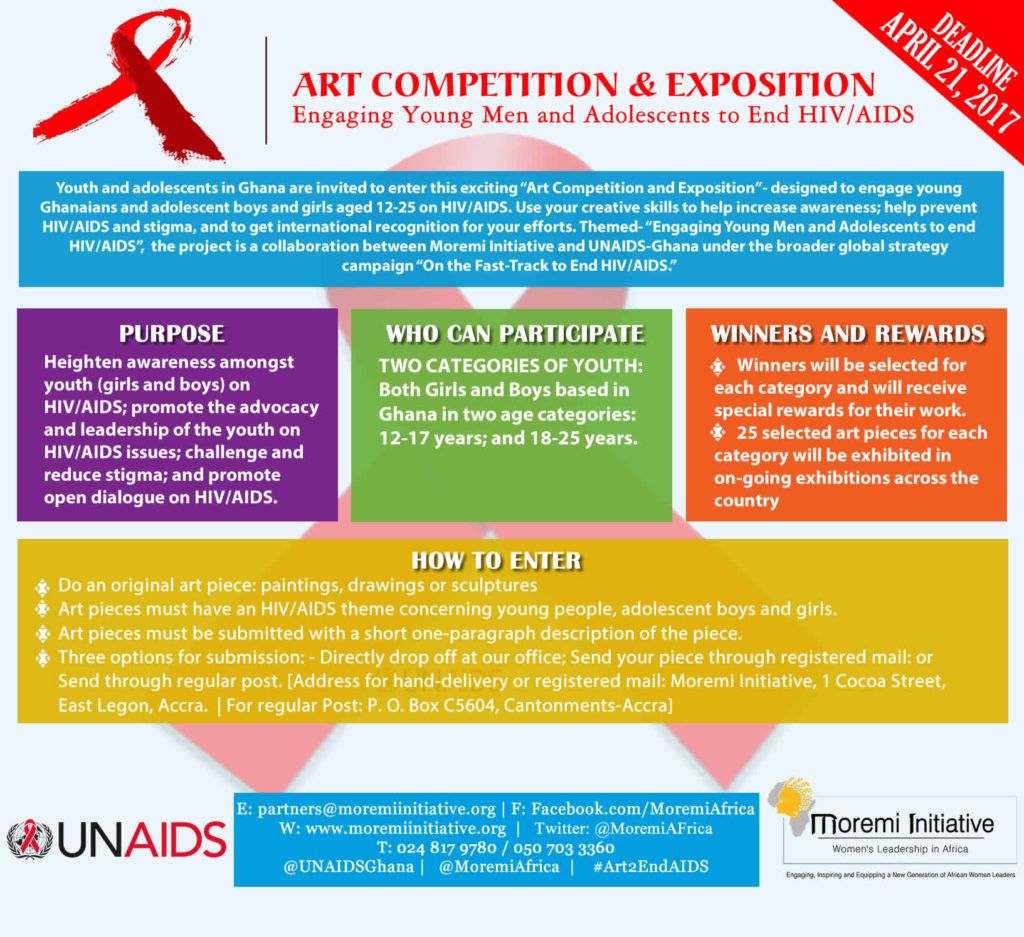 The "Art Competition and Exposition" project is a carefully designed art competition to engage young Ghanaians, particularly adolescent boys and girls and young people aged 12-25 to apply their creative skills while increasing their awareness about; and challenging their attitudes towards HIV/AIDS. With the goal to heighten public awareness and disseminate facts about HIV, participating adolescents and youth (both boys and girls) will submit creative pieces including paintings, drawings and sculptures among others, that highlight the role of young men and adolescent boys to end HIV/AIDS. Themed "Engaging Young men and Adolescents to end HIV/AIDS." the project is a collaboration between Moremi Initiative and UNAIDS-Ghana under the broader global strategy campaign "On The Fast-Track to End HIV/AIDS."
PURPOSE
Heighten awareness amongst youth (girls and boys) on HIV/AIDS, and other pertinent issues such as gender inequality and sexual violence; and how they – the youth, can play a role to address them.
Develop the leadership skills of the youth to be effective advocates for safe practices and healthy preventative lifestyles pertaining to HIV/AIDS prevention.
Employ art as a creative medium to discourage and reduce stigma associated with HIV/AIDS
Foster open dialogue on HIV/AIDS.
COMPETITION DETAILS
o TWO CATEGORIES: Art competition for youth (girls and boys) in two age categories: 12-17 years; and 18-25 years.
o Art pieces must have an HIV/AIDS theme concerning young people, adolescent boys and girls.
o Art pieces must be submitted with a short narrative on the piece.
o Contestants can submit art pieces such as paintings, drawings or sculptures etc.
o Winners will be selected for each category and will receive awards for their work.
Selected art pieces will be displayed in on-going exhibitions across the country. The deadline for submission of pieces is 21st April, 2017.
For a long time, tackling and addressing HIV/AIDS related issues have primarily been done through the lens of politics, medicine, and economics; and discussions have focused on the academic, political and scientific context. At Moremi Initiative, we see an opportunity to introduce creative mediums, especially through art and partnering with youth to support ongoing efforts to end HIV/AIDS. Working with youth to address HIV/AIDS issues is critical, and engaging their creative capabilities is even more crucial because of how they interface and are impacted by the pandemic. Shifting attitudes and changing behavior is around the perception of HIV/AIDS is effective when it starts at an early age. To this effect, we want to equip and support young male and female leaders to better understand the science, politics and socio-economic realities behind HIV, and to enhance their knowledge, skills and capacities to protect themselves, and ultimately help to end the stigma and meet the national and global targets for reduced new HIV infections and ending the epidemic completely.
We are intentionally prioritizing the theme "Engaging Young Men and Adolescent Boys to End HIV/AIDS," due to the many vulnerability factors for them—as key drivers in the spread of HIV infections; and the crucial role they can play to end harmful gender norms that perpetuate violence and discrimination against girls and women. We want to highlight both the factors that make men and boys a vulnerable group as well as interrogate ways in which their choices and lifestyle pose risks to young women and girls. Additionally, we want to leverage their capacity and potential as agents of change to address the HIV/AIDS epidemic.
E: partners@moremiinitiative.org | F: Facebook.com/MoremiAfrica
W: www.moremiinitiative.org | Twitter: @MoremiAFrica
T: 024 817 9780 / 050 703 3360
@UNAIDSGhana | @MoremiAfrica | #ArtEndAIDS