MENTORING & COACHING
OVERVIEW: The Moremi Initiative Mentoring program is designed initiative intended to engage, inspire and support the personal and leadership development of young African women as agents of change through mentorship. Tailored as an intergenerational program, the program is conceptualized to strategically build multi-generational solidarity and enduring professional linkages by utilizing the experiences and achievements of influential African leaders. The program will bring together generations of change-makers for mentoring and networking. It will also enable the sharing of resources, networking, discussions and collaboration; and will provide a platform for young leaders to interact and share inspiration with some of Africa's most influential women and men leaders.
MiMENTOR: Our MiMENTOR Forum is an inter-generational online workspace designed to facilitate the interaction between African women mentors and mentees by providing a platform for accomplished African women leaders to contribute to and nurture the next generation of young women who are interested in learning and taking on leadership roles. The MiMENTOR Forum seeks to develop African women's leadership capabilities for greater participation in political, business and community decision making processes through technology enabled mentor-mentee relationships between African women leaders and the next generation. By providing access to a comprehensive database of resources and expertise on critical issues relating to girls and women's leadership in their communities, the state of the art interactive mentoring portal network will enable fellows and mentors to share information and resources, as well as to maintain ongoing professional and personal contact. The portal will facilitate inter-generational dialogue between mentors and mentees from across Africa and the Diaspora, and will equip young African women with the tools and resources needed to accelerate their personal and leadership growth. It will also provide access to experts and professional that have hitherto been beyond the reach of young African women because of their location. The knowledge network will also feature an active internet-based network which connects current and past participants to opportunities and ways to strengthen relationships and support one another through an alumni website and on-line newsletter and will lead to the cultivation of an on-line community of Moremi Initiative junior and senior fellows.
WoMentoring: "WoMentoring" is an informal program that allows young women leaders to spend quality time—ranging from a few hours to a full weekend, with some of the most influential women from their communities and networks. The Program is specially designed to link determined young women who possess great leadership potential with women leaders and professionals with the seasoned experience necessary for influencing and inspiring the younger generation.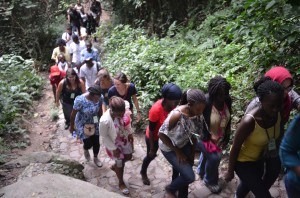 This will begin the process for a long-term informal inter-generational mentorship relationship. Moremi Initiative facilitates this innovative program as an invaluable investment in the leadership development of young leaders as they strive to create positive change in their lives and in their communities. Through our WoMentoring program, we seek to leverage mentorship to promote women's leadership and professional development by creating linkages and networks that will ensure the sustenance of ideas and tools of activism from generation to generation.
WoMentoring Summits: WoMentoring summits seek to highlight, share, and celebrate the achievements of accomplished women leaders and in the process, create a platform to facilitate the mentorship and development of younger women. Through the summits, Moremi Initiative builds multi-generational solidarity by utilizing the experiences and achievements of influential women and mentors to motivate, empower, and shape the next generation of women leaders. By convening mentors and mentees for WoMentoring summits, we facilitate engagement between mentors and mentees, and provide a platform for deliberation on the importance of solidarity movement building to the holistic development of the African woman. The summits also provide a training opportunity to equip young women mentees to become peer mentors themselves within their communities.